Atlas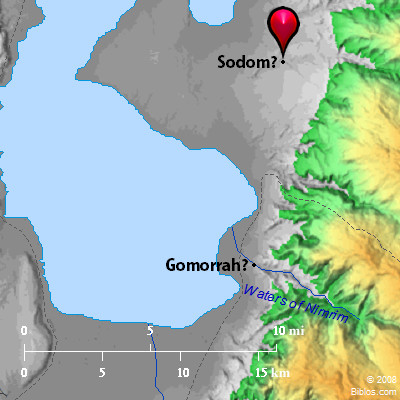 ---
Maps Created using Biblemapper 3.0
Additional data from OpenBible.info
---
You are free to use up to 50 Biblos coprighted maps (small or large) for your website or presentation. Please credit Biblos.com.
Occurrences
Genesis 18:20
Yahweh said, "Because the cry of Sodom and Gomorrah is great, and because their sin is very grievous,
Genesis 19:24 Then Yahweh rained on Sodom and on Gomorrah sulfur and fire from Yahweh out of the sky.
Genesis 19:28 He looked toward Sodom and Gomorrah, and toward all the land of the plain, and looked, and saw that the smoke of the land went up as the smoke of a furnace.
Encyclopedia
SODOM
sod'-um (cedhom; Sodoma) One of the 5 CITIES OF THE PLAIN (which see), destroyed by fire from heaven in the time of Abraham and Lot (Genesis 19:24). The wickedness of the city became proverbial. The sin of sodomy was an offense against nature frequently connected with idolatrous practices (see Rawlinson, History of Phoenicia). See SODOMITE. The fate of Sodom and Gomorrah is used as a warning to those who reject the gospel (Matthew 10:15; Matthew 11:24 2 Peter 2:6 Jude 1:7). The word is used in a typical sense in Revelation 11:8. Sodom was probably located in plain South of the Dead Sea, now covered with water. The name is still preserved in Jebel Usdum (Mt. Sodom).

See ARABAH; CITIES OF THE PLAIN; DEAD SEA.

LITERATURE.

Dillmann. Genesis, 111 f; Robinson, BR, II, 187;; G. A. Smith, HGHL, 505;; Blanckenhorn, ZDPV, XIX, 1896, 53;; Baedeker-Socin, Palestine, 143; Buhl, GAP, 117, 271, 274.

George Frederick Wright
GOMORRAH
go-mor'-a (`amorah; Septuagint and New Testament Gomorra, or Gomorra; Arabic Ghamara, "to overwhelm with water"): One of the CITIES OF THE PLAIN (which see) destroyed by fire from heaven in the time of Abraham and Lot (Genesis 19:23-29). It was located probably in the plain South of the Dead Sea, now covered with water. See ARABAH; CITIES OF THE PLAIN; DEAD SEA. De Saulcy, however, with others who place the Cities of the Plain at the North end of the Dead Sea, fixes upon Khumran (or Gumran), marked on the Survey Map of Palestine North of Ras Feshkeh, where there are ruins about a mile from the Dead Sea. But there is nothing to support this view except the faint resemblance of the name and the inconclusive arguments placing the Cities of the Plain at that end of the sea.

George Frederick Wright