Atlas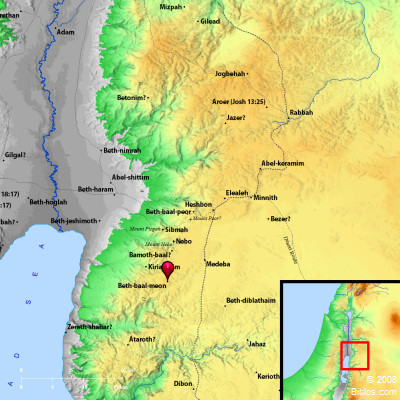 ---
Maps Created using Biblemapper 3.0
Additional data from OpenBible.info
---
You are free to use up to 50 Biblos coprighted maps (small or large) for your website or presentation. Please credit Biblos.com.
Occurrences
Numbers 32:38
and Nebo, and Baal Meon, (their names being changed), and Sibmah: and they gave other names to the cities which they built.
Joshua 13:17 Heshbon, and all its cities that are in the plain; Dibon, Bamoth Baal, Beth Baal Meon,
1 Chronicles 5:8 and Bela the son of Azaz, the son of Shema, the son of Joel, who lived in Aroer, even to Nebo and Baal Meon:
Ezekiel 25:9 therefore, behold, I will open the side of Moab from the cities, from his cities which are on his frontiers, the glory of the country, Beth Jeshimoth, Baal Meon, and Kiriathaim,
Encyclopedia
BAAL-MEON
ba'-al-me'-on ba`al me`on; Beelmeon: A town built by the children of Reuben along with Nebo, "their names being changed" (Numbers 32:38), identical with Beon of Numbers 32:3. As Beth-baal-meon it was given by Moses to the tribe of Reuben (Joshua 13:17). Mesha names it as fortified by him (MS, L. 9). It appears in Jeremiah 48:23 as Beth-meon, one of the cities of Moab. Eusebius, Onomasticon speaks of it as a large village near the hot springs, i.e. Callirrhoe, in Wady Zerka Ma`in, 9 miles from Heshbon. This points to the ruined site of Ma`in, about 4 miles Southwest of Madeba. The ruins now visible however are not older than Roman times.

W. Ewing
---
BETH-BA'AL-ME'ON, or Baal-meon, now Ma'in, 10 ms. e. of the Dead Sea. Mentioned only in Josh. 13:17.
BETH-ME'ON, same as Baal-meon, referred to only in Jer. 48:23,
Strong's Hebrew
H1010: Beth Baal Meon
"house of Baal of (the) habitation," a place East of the Jordan