Atlas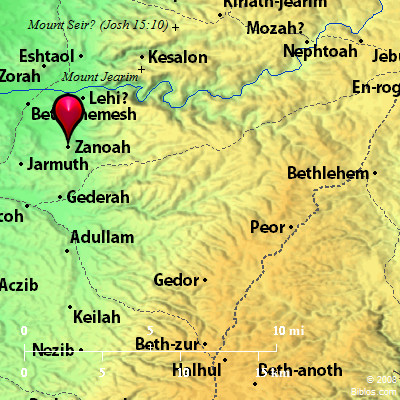 ---
Maps Created using Biblemapper 3.0
Additional data from OpenBible.info
---
You are free to use up to 50 Biblos coprighted maps (small or large) for your website or presentation. Please credit Biblos.com.
Occurrences
Joshua 15:34
Zanoah, En Gannim, Tappuah, Enam,
Joshua 15:56 Jezreel, Jokdeam, Zanoah,
Nehemiah 3:13 The valley gate repaired Hanun, and the inhabitants of Zanoah; they built it, and set up its doors, its bolts, and its bars, and one thousand cubits of the wall to the dung gate.
Nehemiah 11:30 Zanoah, Adullam, and their villages, Lachish and its fields, Azekah and its towns. So they encamped from Beersheba to the valley of Hinnom.
Encyclopedia
ZANOAH
za-no'-a (zanoach; Codex Vaticanus Tano; Codex Alexandrinus Zano):

(1) A town in the Judean Shephelah, grouped with Eshtaol, Zorah and Ashnah (Joshua 15:34). The Jews reoccupied the place after the exile (Nehemiah 11:30). Here it is named between Jarmuth and Adullam. The inhabitants assisted in rebuilding the walls of Jerusalem, repairing the valley gate (Nehemiah 3:13). Eusebius (in Onomasticon) places it at Zanna, in the district of Eleutheropolis on the Jerusalem road. It is represented by the modern Zanu`a, about 10 miles North of Belt Jibrin (Eleutheropolis).

(2) (Codex Vaticanus Zakanaeim; Codex Alexandrinus Zano): A place in the mountains (Joshua 15:56) of which Jekuthiel was the "father" or founder (1 Chronicles 4:18). It may be identified with Zenuta, a ruined site on a hill about 12 miles South of Hebron.

W. Ewing
---
ZANOAH, probably at Zanua which is a place of ruins only, 14 ms. w.s.w of Jerusalem and 1353 ft. above the Mediterranean.
Strong's Hebrew
H2182: Zanoach
two cities in Judah